CANCELLED - Swing Central Jazz Finale: New Orleans Swing Time with Marcus Roberts & Friends
Friday April 3 at 6:30 PM
Presented By
Savannah Music Festival
Due to precautionary measures surrounding Coronavirus/COVID-19, this event has been cancelled. Over the next week, SMF will attempt to reschedule performances. In the event that rescheduling cannot occur, ticket purchasers will be notified immediately regarding refund procedures.

We ask for patience, as these efforts may take time while SMF evaluates many different options with staff, venues and artists. Please direct all ticketing questions to Savannah Music Festival: [email protected]

Thank you for your support and patience.
Following performances by Swing Central Jazz finalist bands, join Marcus Roberts, the Bob Faircloth Associate Artistic Director, for a concert program dedicated to the birthplace of jazz: New Orleans. New Orleans Swing Time celebrates the contributions of some of the great New Orleans jazz musicians to modern jazz, starting with Jelly Roll Morton— the self proclaimed father of jazz and one of the most colorful characters in its history. You'll hear works by Morton's contemporary, Sydney Bechet, whose fiery personality and amazing sound on the clarinet and soprano saxophone is legendary. No program celebrating "swing" would be complete without works by the incomparable Louis Armstrong, who taught the world how to swing nearly 100 years ago. Later, when Armstrong traveled to Chicago, he created one of the greatest musical partnerships in the history of jazz with the illustrious Earl "Fatha" Hines. This year's Swing Central Jazz Finale will showcase the historic origins of jazz from the Crescent City with Marcus Roberts, dubbed "a genius of the modern piano" by Wynton Marsalis, at the helm.
Roberts is a well-known figure at SMF. At SMF 2013, Roberts premiered his first piano concerto, Spirit of the Blues: Piano Concerto in C minor, with the Atlanta Symphony Orchestra, and at SMF 2019 he performed his Rhapsody in D with the Savannah Philharmonic Orchestra. Roberts is Director of SMF's annual Swing Central Jazz program, which brings high school students from all over the country to Savannah to participate in educational programs and a band competition.
Sponsored by Bob Faircloth
---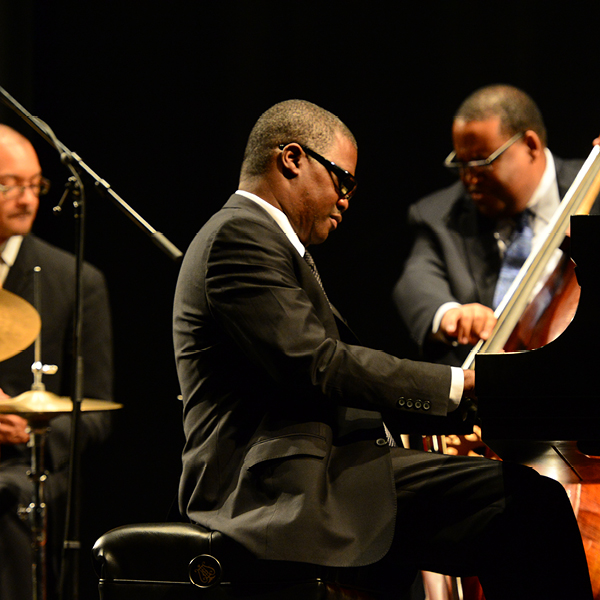 More Upcoming Events