BroadwayHD: Indecent
from Tony Award-winning director Rebecca Taichman
Thursday March 1 at 7:00 PM
Presented By
The Lucas Theatre for the Arts
BroadwayHD is an online streaming service on a mission to promote and preserve live theatre, extending the reach of Broadway and Broadway caliber shows to anyone, anywhere. Founded by Broadway producers Stewart F. Lane and Bonnie Comley, BroadwayHD is capturing and then transporting the magic of performance from the stage to The Lucas screen.
Pulitzer Prize winner Paula Vogel makes her Broadway debut in this new play from Tony Award-winning director Rebecca Taichman. It's about the love and passion to create theatre, even in the most difficult of circumances. The play follows a troupe of actors, the cast of Sholem Asch's God of Vengeance, who risked their lives and careers against enormous challenges to perform a work in which they deeply believed, at a time when art, freedom and truth were on trial. It is a story told with compassion, honesty, but also with great theatricality, and joyous songs and dances.
Indecent also won Best Lighting Design of a Play (Christopher Akerlind). The production received the Outer Critics Circle Award and Obie Award for Outstanding Director of a Play (Rebecca Taichman), the Drama Desk for Outstanding Lighting Design for a Play (Christopher Akerlind) and the Lortel Award for Outstanding Choreography (David Dorfman). Paula Vogel has been honored with a Special Citation as playwright and mentor from the New York Drama Critics Circle, and received a Lifetime Achievement Award from the Obie Awards.
Tickets are $15 for general admission; $10 for military and seniors; $5 for non-SCAD students, children under 15 and FREE for SCAD Card holders


---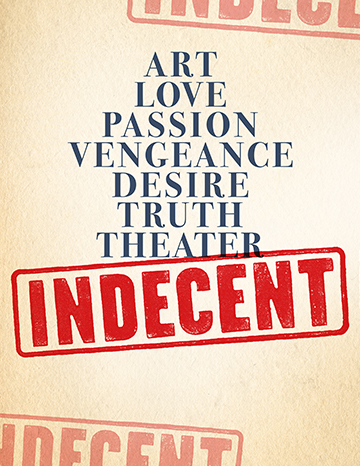 More Upcoming Events